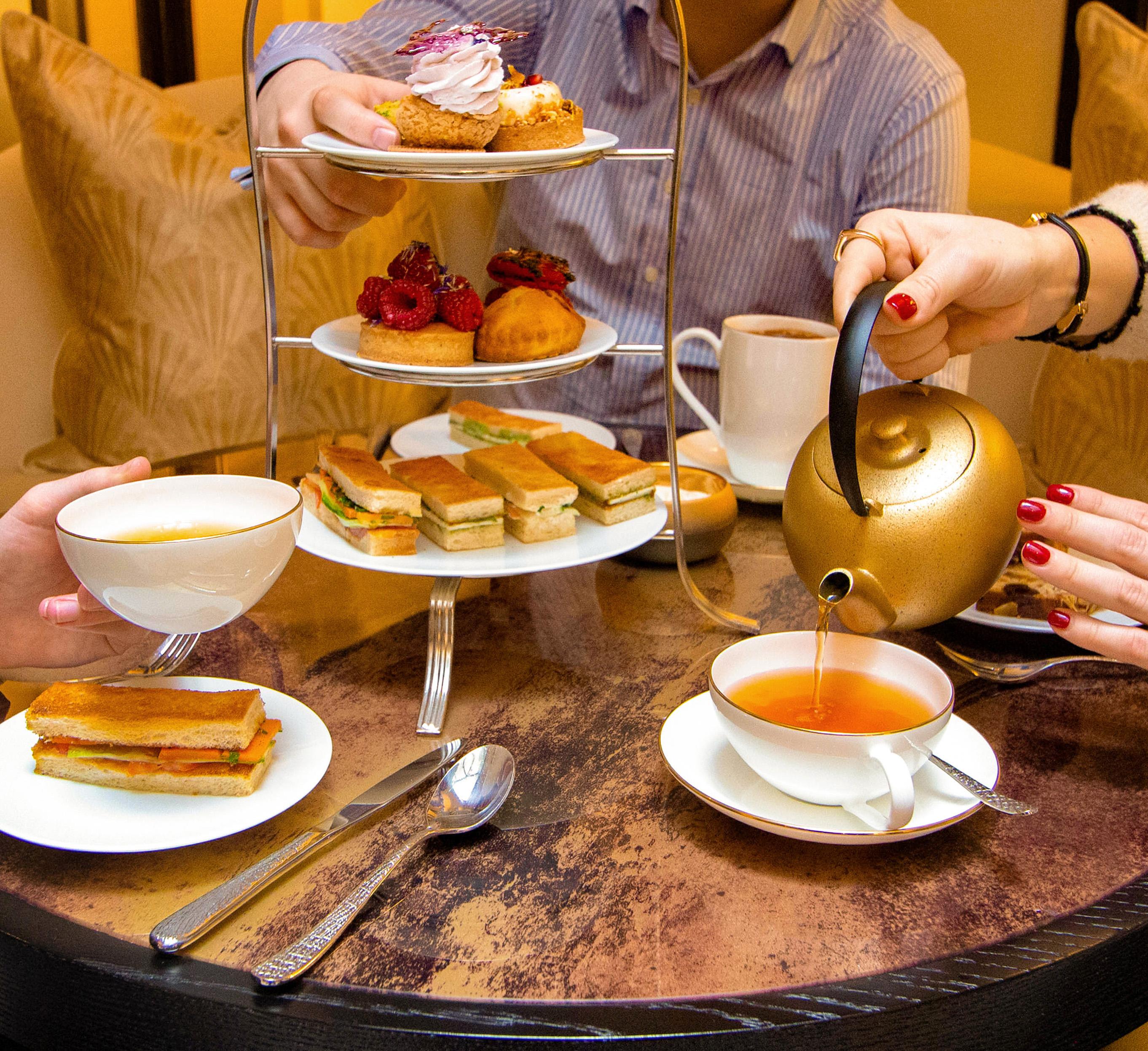 Paris, city of love, city of lights, city of elegance and French chic, what better place to enjoy a delicious English tea time? Moreover, do you know the origin of this British custom? Let's travel back in time to learn more about this illustrious English tradition dating back to the mid-19th century.
FUSION OF ROMANTISM AND TRADITIONS
Our restaurant Le Bayadère is pleased to offer you a refined and elegant experience, in an intimate and romantic setting, where you can enjoy every moment with family and friends.
Our tea time is served from Friday to Sunday from 3 p. m. to 6 p. m. Treat yourself to a gourmet moment out of time by tasting our selection of teas, hot drinks and sweet and savoury treats. The Goût-Thé Bayadère, 32 euros offers you a hot drink of your choice, accompanied by an English scone, a pastry by Carl Marletti and finger sandwiches. We offer you a second Goût-Thé: Elysia, 46 euros, which also includes a glass of champagne.
Dear tea lovers, the Bayadère is ready to surprise you! With just over twenty selections, it will take you on a journey through the flavours and world of Dammann House. Between green teas such as Jasmine or Nuits à Versailles with the sweet aromas of bergamot, orange blossom and violet, black teas such as Earl Grey Yin Zhen and white teas with Oolong, so many choices that will transport you into the charm of this British tradition.
Every kind of tea has its virtues. Green tea is antioxidant, black tea is highly concentrated in antioxidants to fight bad cholesterol and white tea has rather subtle, calming and neuroprotective aromas. For extra lightness, we also offer infusions. Chamomile, Verbena, Peppermint and Linden as well as traditional hot drinks: coffees or the delicious Monbana hot chocolate.
Sweet or savoury, let yourself be charmed by our excellent sweets. Our lemon cake will delight you with its freshness and slight hint of acidity to give you all the energy you're craving. Talented pastry chef Carl Marletti also contributes to this moment of relaxation with his creations. We've thought of a touch of England with our succulent scones, clotted cream and jam.
For a salty touch, we suggest our four-piece finger sandwiches with smoked salmon and cream cheese, chicken, vegetables and comté cheese.
TIME TRAVEL
The history of tea time is a story that blends cultural influences, historical events and the social habits of the time.
The Duchess of Bedford, Anna Russell, is often credited with popularising the idea of having a light afternoon snack to bridge the gap between lunch and dinner, because in those days it was served late in the evening. The Duchess began to ask for cups of tea and light snacks, such as sandwiches and cakes, to satisfy her hunger, often inviting her friends to join her for this moment of relaxation. The side dishes were varied, but scones became one of the most popular specialities. They were served hot with jam and clotted cream, creating the famous "cream tea". Cupcakes, biscuits and sandwiches were also present, often elegantly presented on tiered trays.
It has become a way of life in Great-Britain, even a cliché, a symbol of British elegance and hospitality, and is served around 4pm. Today, it has been introduced to the tables of many countries, including France, where it is appreciated for its timeless charm and elegance.
Tea time in France has always been less formal, lighter and more refined than in England, often accompanied by pastries such as macaroons, éclairs, madeleines, financiers and petits fours. At Le Bayadère, we want to take you on a journey back in time, introducing you to this delicious English tradition, which is still full of flavour, charm and conviviality today.
Have our trip to the world of delicacies whet your appetite? Don't worry, Le Bayadère is delighted to offer you this unique experience, a true journey through the ages. Be assured, you won't forget this moment, in an environment conducive to refinement, charm and romantism.
Whether it's a therapeutic break in a busy day or a chance to share precious moments with loved ones, this tradition continues to embody an experience that transcends borders and eras.